Temperature Sensors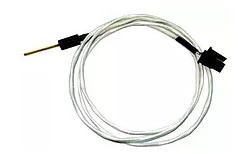 The ATS30 temperature sensor was specifically designed for medical applications to monitor temperature.  The Polyimide Sheath encapsulated NTC thermistor is designed for long term exposure to high temperatures.  The small .040" diameter probe allows for use in the tightest of spaces.  The low cost semi-automated united states manufacturing process allows for a cost effective solution.
The ATS60 PT RTD sensor was specifically designed for high temperature applications with harsh media where a small size is important. The 0.31″ 316L stainless steel Hex has a 1/4-20 UNC 2A thread and the PTFE wires are protected by a silicone shrink wrap.
The ATS80 is a calibrated digital temp sensor that operates from -40C to 150C with +/- 0.5C typical accuracy. It is housed in a 316 stainless probe and is designed for all media. The output is 3 wire, SPI (half duplex).